TU-K Events and Notices
SATUK 2020/2021 Elections
Pursuant to Article 13B(a)of the SATUK Constitution,SATUK 2020/2021 Elections shall be held on Thursday,13th February,2020.This shall be preceded by the Departmental election of delegates on Wednesday,12th February,2020:
Public Lecture : Architecture of Migration
Date:
Tuesday, January 14, 2020
ANOORADHA IYERI SIDDIQI , Barnard College, Columbia University
TUESDAY 14TH JAN 2020
Main Hall, 11 AM
Public Lecture On Being A Scientist in Africa
Date:
Thursday, January 30, 2020
Prof. Vasey Mwaja, PhD, MK NAS, FRSB , School of Graduate and Advanced Studies
Agricultural Scientist and Industrialist
Thursday, 30th January 2019 2:30pm
Venue: Technical University of Kenya, Main Hall
Students, members of staff and general public are invited.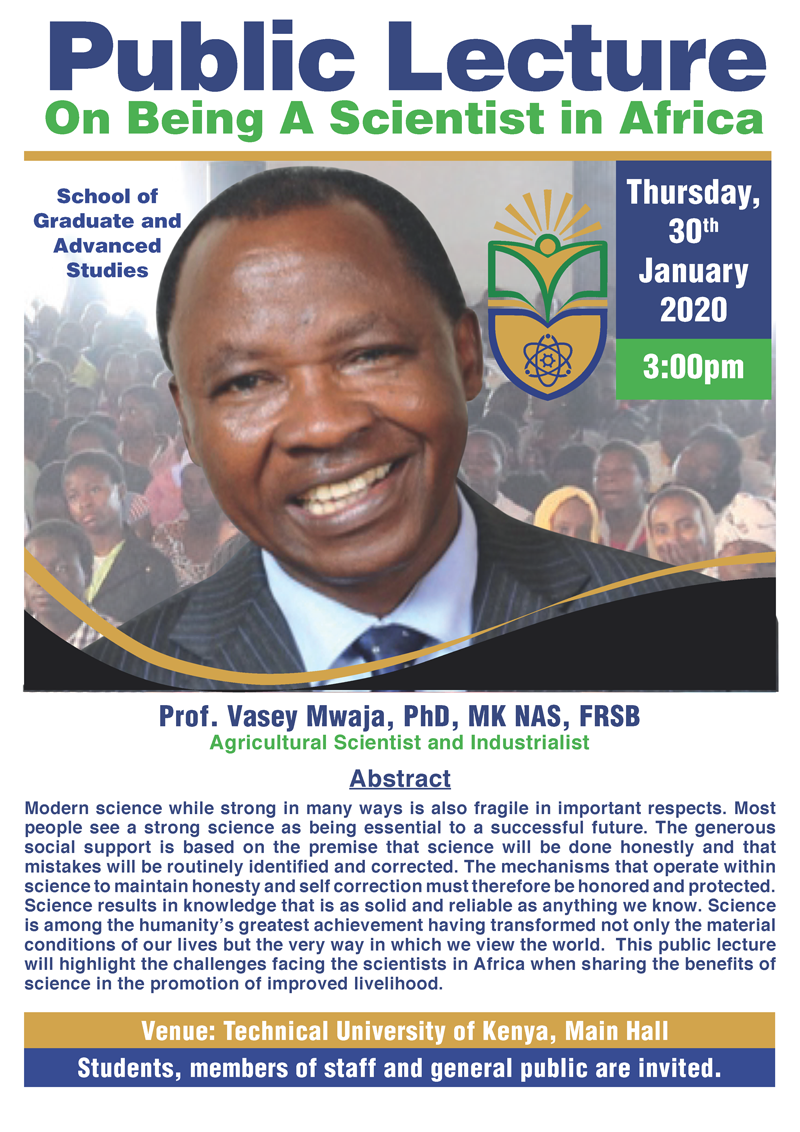 Watch Live: The Technical University of Kenya Graduation 2019
Date:
Friday, December 20, 2019
UPDATED LIST OF GRADUANDS 2019
Date:
Tuesday, December 17, 2019
Hostel Accommodation for January 2020
Date:
Tuesday, November 19, 2019
Students both on Semester and Term Sessions are hereby notified of the application, allocation, and check-in to TUK Hostels for January 2020 as follows:
Booking/Application : 18th November - 29th November 2019 Apply here

Room Allocation : 4th - 5th December 2019

Check In: 6th - 13th January 2020

1 - Students who are not in session will NOT be accommodated.

2 - ... Read more
SATUK AWARDS AND TALENT SHOW 2019 VOTING
Date:
Monday, November 11, 2019
After successful nominations, where over 2183 students expressed their interest in this year's SATUK AWARDS, the SATUK AWARDS committee kindly invites you to vote through this link: Vote Now
Voting starts on Sunday, 10th Nov from 11:00 AM to Tuesday 19th Nov at 11:59 PM.
The final awarding Ceremony will be on Thursday, 21st Nov 2019
SATUK AWARDS COMMITTEE
RATTANSI EDUCATIONAL TRUST 2019/2020 BURSARY APPLICATION
This is to notify all bona fide students of The Technical University of Kenya of the initiation of the Rattansi Educational Trust bursary allocation process for the academic year 2019/2020. Kindly observe the following:
1. Apply online through the student portal (Services/Rattansi Bursary)
2. Attach all relevant documents including;
a) The latest fee statement verified by the Faculty Accountant
b) Death certificate(s) of parents if orphaned;
c) Any other relevant document that may assist in proving your level of need... Read more
Date:
Tuesday, November 5, 2019
TU-K 7th Graduation Ceremony will be held on Wednesday 18th and Friday 20th Dec 2019. Only graduands who will have cleared with the respective departments by Friday 15th November 2019 will be allowed to graduate. Clearance requires graduands to complete the "Application to Graduate Form" available online in the students' portal through click on Fee Statement link.
Collection of Student Smart Cards
Date:
Thursday, October 31, 2019
Students who applied for HELB Smart Cards and have not collected are hereby notified to visit the Office of Student Recruitment and Admissions and collect their cards. You can confirm if you card is ready for collection at the Student Portal.
Date:
Tuesday, October 15, 2019
All needy students are invited to apply for the SATUK bursary through the Student Portal (Services | SATUK Bursary). Application will open from 15th October, 2019 at midnight and will close on the midnight of 3rd November 2019. Completed applications should be forwarded to the office of the Director Student Support Services LATEST Friday 4th November, 2019 by 5:00pm. Please note that late applications will not be considered.
The applications must be certified by your Chairman of Department and... Read more
Preventive Maintenance on ICT Equipments
Date:
Friday, September 20, 2019
This is to inform the Technical University fraternity that the Directorate of ICT Services (DICTS) will carry out the annual Preventive Maintenance in the server room on Saturday 21st September 2019 between 9.00 am and 3.00 p.m.
During this period, network-based services shall not be available.
We are sorry for the inconvenience.
D.H.O. Osiro,
Ag. DIRECTOR, DICTS
Accommodation for 2019/2020 Term 2
Date:
Tuesday, September 10, 2019
Students are hereby notified of the application, allocation, and check-in to TUK Hostels for September - December 2019 as follows:
Booking/Application : 9nd September- 19th September 2019 Apply here

Room Allocation : 23rd September - 24th September 2019

Payment and Check In: 30th September - 4th October 2019

ALL FIRST YEAR STUDENTS ALREADY RESIDING IN THE HOSTELS MUST APPLY TO SECURE THEIR ROOMS
Supplementary and Special Examinations 2018/2019
The Technical University of Kenya wishes to announce that Special and Supplementary examinations will be administered from Monday 26th to Friday, 30th August 2019. Students who have recommendations by their respective School Academic Boards to sit either Special or Supplementary examinations are advised to liase with Chairpersons of Departments to access the timetable for the Special/Supplementary examinations.
2018/2019 TVET Loans and Bursary First Time Cancelled Applications
This is to notify all students whose names appear on the list below and whose TVET loan applications were cancelled due to conflict of parents occupation and income that they are advised to fill the Correction of Parents Details and Family Income TVET Form available below:

>> View List


>> Download Correction Form

Note that the deadline for submission of... Read more
Managing suicidal ideations
No matter how much pain you may be experiencing, you're not alone. Some of the finest, most admired, needed, and talented people have been where you are. Many of us have thought about taking our own lives when we've felt overwhelmed by depression and devoid of all hope. But the pain of depression can be treated and hope can be renewed.
No matter what your situation, there are people who need you, think about a family that loves you, places where you can make a difference, and experiences that can remind you that life is worth living. It takes real courage to face death and step... Read more
SUICIDE PREVENTION
According to WHO, 2016 report, suicide deaths for male increased from 9.4 in 2015 to 9.7 in 2016 per 100,000 while female maintained 2.1 per 100,000. In both sexes there was an increase from 5.5 in 2015 to 5.6 in 2016. Globally there was an estimated 793 000 suicide deaths in 2016. This indicates an annual global age-standardized suicide rate of 10.5 per 100 000 population
Source: WHO, 2016
What are the risk factors for suicide?
Certain events and circumstances may increase risk (not in particular order, except first one).
• Previous... Read more
Overview
Mental illness refers to a wide range of mental health conditions. This includes disorders that affect your mood, thinking and behavior. Examples of mental illness include depression, anxiety disorders, schizophrenia, eating disorders and addictive behaviors.
A mental illness can make one miserable and can cause problems in his/her daily life, such as academic performance, work or relationships. In most cases, the symptoms can be managed with a combination of medications and talk therapy (counseling). It is important to note that many people have mental... Read more
MENTAL HEALTH AWARENESS WEEK
One out of every five (1/5) college students is depressed or suffering anxiety. Many young people think of college as a wondrous time of new experiences, being away from home and strict secondary school rules and great freedom to explore new ideas and find one's true self.
So why are these disorders so prevalent?
Use of technology:
Social media and technology are among the most dangerous of these factors. Excessive use of each tends to engender impaired social interactions and an increased sense of isolation. It also fosters a certain competition between... Read more
Freshmen Student Accommodation July 2019
All new students intending to join the University in July 2019 are hereby notified of the application, allocation, and check-in to TUK Hostels as follows:
Very Important: Your portal account MUST be activated at the Admissions Office before you can be allowed to apply.
Booking/Application : 16th May - 16th June 2019 Apply here

Room Allocation : 17th June - 19th June 2019

Check In: 20th June - 28th June 2019

PLEASE NOTE: that there... Read more
The Technical University of Kenya (TU-K) invites tenderers from interested, eligible, capable firms for supply and delivery of branded desktop computers, branded projectors and supply and delivery of fuel, lubricants and fuel card services as follows:
TENDER REFERENCE

NUMBER

CATEGORY OF SERVICES

... Read more